Qajaq TC (a.k.a. Michigan Training Camp) is a truly unique traditional paddlers gathering.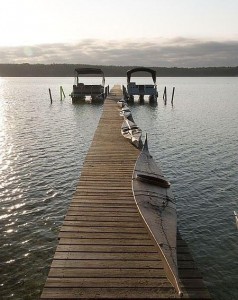 The first event was in August of 2002 and, from the start, we have been affiliated with Qajaq USA.
One can rightfully state this is a full immersion event. There is no access by road, so start paddling! Our spectacular venue creates a truly intimate atmosphere. You will be among sixty (60) individuals representing a broad range of skills who want to do one thing — share and gain experience.
What makes us different? We're small, which allows us to remain completely flexible. Everyone teaches, everyone learns. We focus on each other and make sure EVERYONE has a fabulous time. Because of our intimate size, you get to know everyone. Through the years it's become a community, much like an adult weekend camp with friendships that have formed over the years. It's an inviting community that welcomes newcomers with the same excitement it welcomes long-timers.
We are excited to have Maligiaq Padilla join us for the third time! In 1995, at the age of 12, Maligiaq won every event in his class at the National Kayaking Championships. He is the only person in history to win ten Greenland National Kayaking Championships, winning his first title at age 16 and, most recently, was named champion in 2012. We're working to finalize travel for another special guest . . . stay tuned for details!
This year Training Camp takes place August 23 – 25. In 2012 we enhanced our Friday schedule to include all-day workshops as part of the standard event. No extra fee. We are repeating that approach this year with a workshop focused on building a skin-on-frame kayak. All participants will be able to participate in the process of assembling the frame, and will have hands-on opportunities to work on various aspects of that project. Our goal is to be in position to wrap it in cellophane for a test paddle by the end of the weekend, and it will be donated to the Qajaq USA demo fleet. Playing on ropes, open water practice, or work in sheltered waters will also available on Friday, so if your schedule permits please consider a Thursday arrival.
Registration opens on April 1st. Last year we were sold out within three days, so plan accordingly. Follow us on Facebook for the latest details.
Comments from the QUSA Greenland Forum . . .
"Food, folks, and location could not be better!!!!!! "
"I'm still amazed at the total quality of the weekend"
"You are to be commended on your hospitality, friendliness and openness in accepting new members to the kayaking community."
"The "TC" is close and informal and feels more like a gathering of good friends than a "typical symposium". The people, location and the food are wonderful."
"Anyone who has interest in greenlandic kayaks, skills and equipment would thoroughly enjoy what this camp has to offer.